Cannonball Adderley is, very famouse, "big" alt saxophone player. I'm fond of his performance gone with a swing. I'm fond of his energy blows my anxiety away. If you'll feel his play has no delicacy, you had better to listen to the others. Music is one of the taste, so I can't force you.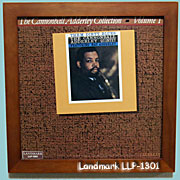 The first album which I like is Them Dirty Blues (Landmark LLP-1301 <- Riverside RLP-303). You can hear original Work Song on it. I feel this song tells me such as "Let's work as hard as you can!" so it becomes me excited. In the Landmark edition, fortunatelly, you can compare 2 takes which Barry Harris played piano on and Bobby Timmons did. I prefer Barry Harris's because I feel it balanced hot Cannonball and cool Barry. And this album includes Jeanine which Manhatten Transfer played later and famouse Easy Living and so on too. Until Landmark released it again it was difficult to get it. So I often went to Intro at Takada-no-baba and Hibiki at Jimbo-cho and listened to it because there was the original Riverside edition at both of them.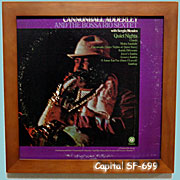 Next one is Quiet Nights / Cannonball Adderley And The Bossa Rio Sextet With Sergio Mendes (Capital SF-699 <- "Cannonball's Bossa Nova" Riverside RLP-455). You can enjoy Bossa Nova played by Cannonball. Especially Clouds, the first song on the A side, always reminds me our wedding because I used it for BGM. I'm amazed he can play so lightly! This album is one of the relaxed play in his works. If you'll know principle and insistence are of secondary importance, you already become a captive to his play.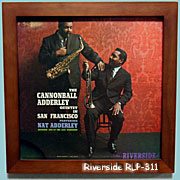 The last one is, famouse one, The Cannonball Adderley Quintet In San Francisco (Riverside RLP-311). You can't talk about Cannonball without listening to This Here in it. This was recorded at Jazz Workshop, and if I existed at there, I think it would change of my life. There was so sultry and stifling with the heat of the audience. His brother, Nat Adderley played cornet very nice (he was featured on the jacket). I wanna meet with the live session like this!

On Brilliant Corners (Riverside RLP-226) by Thelonious Monk(p) I've first heard Ernie Henry(as)'s play. While I mainly listened to Sonny Rollins and Thelonious Monk, I could know he was just one of the alt saxophone players. Because I didn't know the players without big name at the beginning.
After some time passed, I often went to Jazz Country. At that time I liked Jackie McLean very much. One day Mr. Nonomiya, the master of Jazz Country, put Presenting Ernie Henry (Riverside RLP-222) on the turntable. I can't remenber the detail but I think the theme was moved from Jackie McLean to Ernie Henry in our conversation and the master tested us if we could find community and difference between them. I felt their tones were similar but Henry's ad-lib was more avan-garde than McLean's. In fact Ernie Henry died when he was too young, but I believe if he lived until the new-mainstream group played actively then he could make the best use of his talents. According to the liner-notes of "Seven Standards And A Blues", Mr Mogushi who is the master of Intro expressed Henry's originality as "A Beauty In Chaos" which was overlapped with words by Sakae Ohsugi. I always think it's a nice metaphor.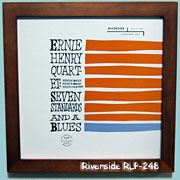 Then I'll introduce his albums but he died at 31 years old so there are only 3 albums recorded on Riverside label. At first I recommend Seven Standards And A Blues (Riverside RLP-248). Generally if they select famouse standard numbers then their play isn't good I think. Because the players stick to the original image (There are two opinions. One is that the original image is more important and the other is that you don't stick the original tune because the original is just motif. At the point of that player's originality is more important I'd rather think as the second.) but at this case you can enjoy the color of Ernie Henry enough. I can't believe this was recorded at 1957 yet.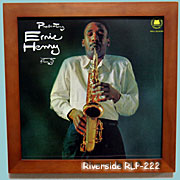 And Presenting Ernie Henry (Riverside RLP-222). This is his most famouse album. I once copied it to one side of the cassette tape for driving and did Jackie McLean Quintet (Jubilee 1064) to the other. After hearing it again and again I got tired of it at one time...... But now I listen to it again then I can feel it fresh! And I think the perfect members as Kenny Dorham(tp), Kenny Drew(P), Wilbur Ware(b, I like his play!) and Art Talor(ds), are wonderful. I have to say you can find the excellent performances in everywhere.