Before WWII:
Only certain people knew that jazz was interesting. In general jazz was still unpopular in Japan. And then, just before the war, having records of jazz, hearing it and singing it were prohibited by our Government.
After WWII:
American military police brought our country various, new cultures. Many people gradually knew the new music by the radio and the movie.
They say that vocalists like Louis Armstrong, Nat "King" Cole, Frank Sinatra, Dinah Shore, Peggy Lee and swing jazz bands like Benny Goodman, Glenn Miller, Tommy Dorsey were popular in those days.
Then some Japanese became to play jazz with foreign players at the military base.
'60s - '70s:
Jazz was already popular. So we could see a lot of coffee shops with jazz music. Because a record was still expensive but many people wanted to listen to them. But there was a rare rule like "Don't speak!" for listening to jazz seriously. Perhaps it was only in Japan!
Now:
Many rare items are produced and selling in Japan.
---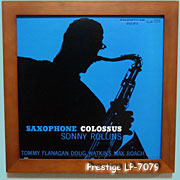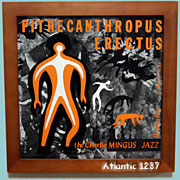 At 18 years old, one day I went to Akihabara (Famous town for many electrical appliance stores) to buy jazz records! Finally I bought Saxophone Colossus / Sonny Rollins (Prestige LP-7079) and Pithecanthropus Erectus / Charles Mingus (Atlantic 1237). That was my first experience so I excited and went home......
At first I listened to Saxophone Colossus.
"I've heard this melody like this
But I don't know why it's interesting???"
I was unable to feel the taste of ad-lib yet.
Next, I put Pithecanthropus Erectus on the turntable.
"What's this???
I would never understand the Mingus's originality which is more difficult than Rollins's at that time.
"I can't get on well with jazz......"
"Is it right not to buy more jazz records......"
"What a waste to throw it away though I paid some money!"
"I'll listen to it again......"
Then I obstinately repeated listening to Saxophone Colossus over and over again. Suddenly I realized that I strained and relaxed myself as Rollins's ad-lib!
"It's Good......"
After this I came to listen to many records. But I couldn't keep up with Mingus yet.
---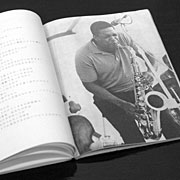 After a while, I came to know Eric Dolphy. At this time I could judge whether I got along with a player or not. I felt Eric Dolphy was good from beginning.
One day I went to DISK UNION (one of the records shops) at Ochanomizu and I found the record titled as Blue Trane / John Coltrane (Blue Note BLP-1577). I remembered that I read the name, "Dolphy", in a section about John Coltrane on a jazz book so I thought about
"I may possibly be gone along with a John Coltrane."
Then I bought it. It was one of the reason that the jacket was good. This was the encounter with John Coltrane and BLUE NOTE records.
Because Blue Trane was more traditional work in Coltrane's, I liked this when I listened to the first track. Now I think I was taken in by the magic of Rudy Van Gelder who is the recording engineer and had a lot of experiences on BLUE NOTE. I was often enjoying this record. Now we can get The Ultimate Blue Train (Blue Note 53428) includes 2 unissued takes and a software works on Macintosh and Windows, you may enjoy the difference between takes. Especially, if you like Lee Morgan, I must say "Don't Miss It!"
Then I serched the works which he played with Dolphy. After I knew there were recordings live at the Village Vanguard and I bought Live at the Village Vanguard (Impulse AS-10) and Impressions (Impulse AS-42). It was felt me a strong tension so I thought I must sit on the floor in Japanese fashion. I was drawn into the works but on the other hand wasn't satisfied with collaboration both with them.
By diskography, I knew ther were many bootlegs recorded their collaborations and then I purchased OZONE, Beppo, Session and etc. Their sound was not good but the quality of performance surprized me very much. After that against the order I bought the rest of works on Impulse and Prestige labels every day. I finally realized there were over 60 albums in Coltrane's name.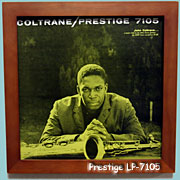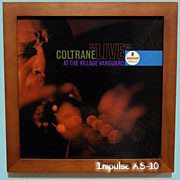 If you ask me which piece I prefer to, I can't answer because I love all. If you insist, I often listen to My Favorite Things (from "My Favorite Things" Atlantic SD-1361) and Chasin' The Trane (from Impulse AS-10) in the dynamic works, and Violets For Your Furs (from "Coltrane" Prestige LP-7105) and After The Rain (from Impulse AS-42) in the static works.

---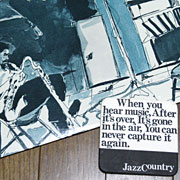 When I was the university student, I dropped in various coffee shops (for examples, Genius and Ongaku-kan at Shibuya, Combo and Hibiki at Suidou-bashi, Smile at Jimbo-cho, Intro at Takada-no-baba, Ito at Ueno) where I could listen to a lot of jazz records.
I remenber that I drank few cups of coffee and I resigned myself to a flow of music then I felt happiness when they played a familiar piece. Generally there were the counter and tables but the counter was a special position for the regular customers. So I always was sitting at the table quietly.
One day I went to a coffee shop, Jazz Country at Ginza for newer encounter. It was on the first basement level in the building behind the elementary school. The first impression was small and dark room. I've heard a loud and unfamiliar tune. The atmosphere about pieces which were played there was very similar to my favorite one but I've never known all of them. The master who was working on the other side of the counter looked like an affable person because he had a beard and was wearing dark glasses. At that time I was all ears at the table. Both music and coffee were good I thought, so I visited frequently. Aftre several visits I got up my courage and went to the counter for checking the jacket of just playing.
"Well, it's very good, I think!"
I've never heard of this name, Horace Parlan. The title of the album was On The Spur Of The Moment (Blue Note LP-4074). He taught me that the album wasn't sold in japan but Parlan recorded other good works too. About one hour later I went home. After that day I came to talk to the master then I was sitting at the counter.
Here, Jazz Country, I learned a lot of things. There are many good players but praised by critics. You shouldn't listen to jazz by your head but your body. First-pressed records sound almost good. You must live frankly. It's wonderful thing to meet to elders. And what is my life!
About jazz, I could listen to many works one after another which I've never done.
Tina Brooks, Frank Haynes, Stanley Turrentine, Booker Ervin, Eric Kloss, Ernie Henry, Sonny Criss, Lou Donaldson, Gigi Gryce, Blue Mitchell, Louis Smith, Bennie Green, Grachan Moncur III, Grant Green, Jimmy Raney, Freddie Redd, Andrew Hill, Jack Wilson, Dave Bailey, Grady Tate,..........
Sorry I can't write them all. The master always chose a good work so I came to love them all.
Now I can't visit there only a few times a year. But his choise is still good! While I go down the stairs the good sound comes into my ears and they make my peace of mind. I'm convinced that his experience listened to a lot of jazz at younger days makes it possible to create this atmosphere. And his deep affection to jazz, too.
Among ourselves who likes jazz, we just say friendly,
"Why don't you go to Jazz-Coun'!"

---
I'll write them with my own feeling. So if you say it's not good, I can't take responsibility. But I chose those albums from the point in listening to them easily through my experience.
Quiet Works...
Kelly Blue / Wynton Kelly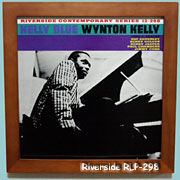 It's one of the major works played by Wynton Kelly who was the pianist and his tone was like rolling and jumping. Please enjoy the unique flavor. I like the thickness made by the front line organized by Nat Adderley(cor), Bobby Jasper(fl) and Benny Golson(ts) and so melodius ad-lib played by Wynton Kelly. Especially I'll recommend the ad-lib in Green Dolphin Street for the exquisite piece. At first, "Listen!"

Under Paris Skies / Freddie Redd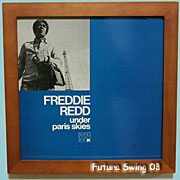 It's a piano trio album played by composing pianist, Freddie Redd. I preffered his play from I've listened to The Music From The Connection on BLUE NOTE. I think he is one of the few pianist who can appeal to play his composed pieces. Generally in the beginning many people think at least a theme is known by themselves but in this case it's no need to have anxiety. If you listen it, you'll soon go into his world.

Funky Works...
Roll Call / Hank Mobley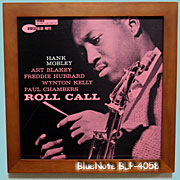 This album is just like a source of energy. I feel that these members, Freddie Hubbard(tp), Hank Mobley(ts), Wynton Kelly(p), Paul Chambers(b) and Art Blakey(ds), were playing at the best condition. Especially I would like to listen to Hubbard's and Mobley's thrilling ad-lib played without thinking to adjust the whole ad-lib and Blakey's appalling druming which cheered up the whole group at every key position. I would say there are no albums with the excitement like this! ... but really you can find a lot of exciting, good albums.

Up, Up And Away / Sonny Criss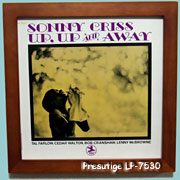 You can find Criss's alt saxophone is running straight but nobody knows the terminal. I wanted to know the "terminal" so I was looking foward to go to his concert in Japan but he killed himself just before it. I remember I was so sad. I think his play is enjoyable very much. For listening to his music, I'm in full swing so after it I come to be tired with a rush. Please listen to it!